Hey, Lovers!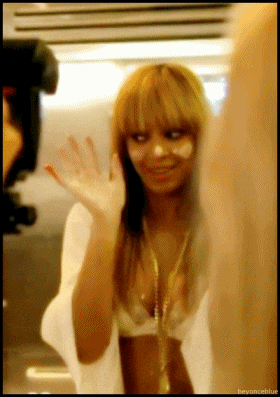 So, here goes. Just like the gif above, I'm pretty shy and guarded. It's a bit hard for me here, because, I have always been private regarding my life. But, if I have the nerve to tell you about yourself, you deserve to know about me, right?
I was raised in Channelview, TX as an only child in a pretty sheltered household, by a single mom, in a village of a grandmother, aunt and older cousin. I use the term "sheltered" because my mom gave her life to the Lord when I was 7 and our lives went from not going to church, to literally going 4 or more times per week. She became an ordained minister and started to run different ministries in our church and even join their staff. Needless to say, I lived at church (I wish you could see my face and how I'm rolling my eyes and chuckling to myself). Even with that bit of annoyance, I wouldn't have changed a thing! As a grown woman, I can look back and appreciate all of it. Its crazy, but, I feel as if I learned how to love God for myself, stay a virgin as long as possible and I literally have never touched one drug. Not even weed or an edible!
But, as a result, in high school, kids called me "square", "lame, and "super Christian" to make me feel like the values I possessed were so archaic. I went on to be bullied for these things. It was hard, I didn't understand it and I cried a lot. But, therapy helped me realize, (yes, I occasionally go to a counselor as well as quarterly marriage counseling with my husband with no shame) that the things that made me different, my virginity, being a Christian, choosing my friends carefully and rarely having a boyfriend were so odd to my peers that it caused some of them to look themselves in the mirror. As a result, from being young and immature, they bullied me because our differences made them uncomfortable. All of this was later confirmed again because, multiple people from my high school confessed this exact thing to me when we were later adults.
So, I took a year off after graduation, waited tables and later started community college while working as an apartment leasing agent in downtown Houston. I loved it! Several of the Houston Rockets and Astros lived on this property so we had a blast mingling with them and hanging out. I graduated with a BS in Communication Studies from the University of Houston-Downtown. I later went on to become a successful sales rep in the pharmaceutical world. But, while in college, I dated, partied and traveled with my friends. Going to college and working downtown was awesome! I was having the time of my life literally like 7 nights a week! In those days, I was young and didn't need coffee two minutes out of bed to function, chile. I met my boyfriend who lived at the property where I worked. We later got engaged, he cheated on me and I was out. Don't worry, you'll hear the full story in my book. But, the killer is… all of these things went down while I was a virgin. Literally, the first man I made love to was my husband and it was on my honeymoon. Whew! Now you know. Only my closest friends and family have known this and I feel so liberated telling the world.
Post breakup in Vegas
You see, I had a burden on me spiritually to honor God with my body. That was really important to me. I felt so strongly about waiting for my husband and not creating physical, emotional and spiritual ties with multiple guys that I would ultimately have a hard time getting past. I saw some of the aches that my friends were going through in their relationships and it made me even more so want to maintain what I was doing. Year after year went by and I was constantly faced with guys who ridiculed me or acted as if they were impressed with my "purity", but would later berate me about it when they were "frustrated" . I knew I had the choice to give in or keep going. Literally, God gave me the strength to keep waiting.
In the process of all of this, I was the person my family and friends constantly came to for advice in their relationships. Even though, I still had a great deal to learn myself and still do, people trusted me with their issues. I learned so much from them and myself in this process. My straightforward view on God, love and what I had learned in relationships caused people to trust me. I was on speed dial for every breakup, "girl come get me", "Cortni, can you come over because this just popped up", "Girl, can we pray over the phone because I'm about to go fight this man" situation and I loved it! I have a heart for hearing women and helping women. In return, it helps me and pours into my soul. I just love it. I want to see us all in the best relationships possible and that's why I'm writing this blog.
On a dating sabbatical, my aunt introduced me to my husband and the rest was history. I knew he was exactly what God sent to me from our very first date. I walked away thinking about how much I knew he was exactly what I had prayed for. We dated for a little under a year and got married 7 months later. It is the best thing I have ever done. He is the epitome of God extending his love to me through my partner in life. He is my very best friend and with him, I'm totally unveiled and freely in love. I'm so thankful. And I'm even more thankful that I waited for him.
This whole journey caused me to do a lot of "journaling". I started writing down all of the things I chose to ignore in my relationship with my ex fiancé. I told my friends about it and we all started sharing crazy stories about "red flags" from past relationships. As a result, my godmother gave me the bright idea of my book being released this fall. Its loaded with warnings in the dating game and I'm super excited for you guys to read it and give me some feedback..
That's me in a nutshell, but, you'll learn more as we get to know each other!